I'm just back from a great trip to Switzerland organised with lots of help from the amazing team at the Switzerland Travel Centre in London who know absolutely everything about everything Swiss related!
After a quick hop from Newcastle to Geneva (Easyjet were excellent) I took the high speed train to Visp where you swap on to their version of the west Cumbria line (without the supermarket trolleys by the side of the track) for the climb up to Zermatt on a fab train with panoramic windows to help take in the amazing scenery.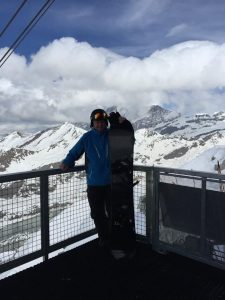 Zermatt – is a beautiful traditional Swiss town with spectacular views of the Iconic Matterhorn, there are lots of 500-year-old buildings to contrast with some amazing modern properties. There are hotels, bars and restaurants to fit all budgets but choose the bar carefully and just in case you have chosen badly strap a pillow to your bum & wear a crash helmet just in case you fall over with shock from the cost of that first round!
The ski area was superb and probably suits intermediate or advanced skiers more than beginners.
The highlight was the beautiful Gornergrat cog railway that takes you from the village to a height of over 3000 metres. I stayed at the Hotel Schonegg which was featured in the recent BBC Drama The Night Manager staring Tom Hiddleston – FAB hotel, beautiful rooms (with optional Matterhorn view) and lovely food!